Giving to others is the key to happiness!
Become a Volunteer
Our lives have more meaning when we make some contribution to life that is greater than simply serving ourselves – the key to joy is in giving not getting!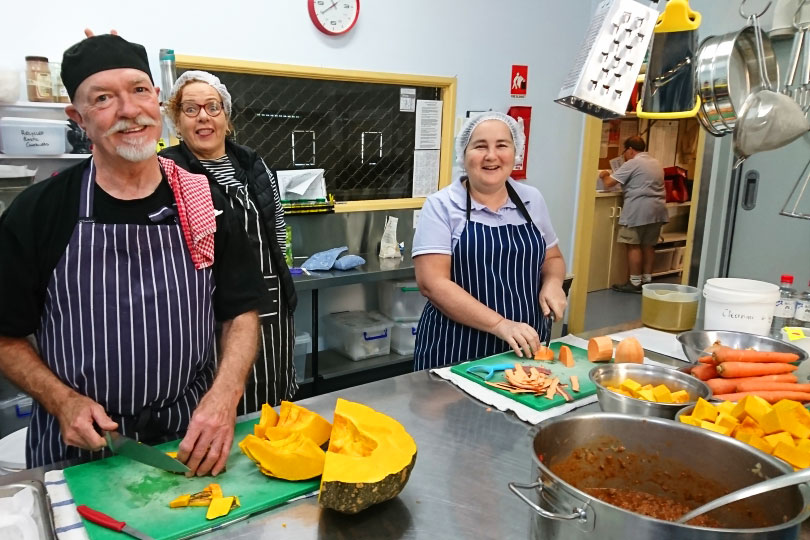 There is plenty to do here at Meals on Wheels Pomona! Our amazing team of volunteers have a great time planning, preparing and delivering quality meals and community service to our clients. We love the connections that we make with other volunteers and with the wider hinterland community. With each delivery we have a chat and and a friendly check that all is well with our clients. Knowing that our clients are OK, brightens up our day too!
If you are considering becoming a volunteer at Meals on Wheels Pomona you will be required to undergo training with us to ensure that you align with our values (read our declaration here) and can meet our high standards for quality and care. You will also be required to undergo a police check which is mandatory for any volunteers working with members of the community.
If you are intending to volunteer as a driver, you will need to own a fully ensured vehicle that you use to carry out deliveries.
I feel as if I'm giving back to the community, being involved.  I enjoy the friendships and camaraderie.  It is interesting working with different people on the various days I work, and catching up on what's going on in town.  We are acquiring new talents …. singing, learning German, having French conversations.
I am very happy to do this for folk in our community who are unable to cater for themselves.  It is a very worthy cause and it gives back to the community.
I'm a long time local, and work as a packer and general kitchen hand.  I enjoy the friendships, and a yarn over the delicious home-made goodies for morning teas.
We've been helping with deliveries for Pomona Meals on Wheels for nearly 15 years and are still going strong.  We love being involved with the community and such a great team of people. It's a great team! 
Are you inspired and ready to volunteer?
If you're considering becoming a volunteer, give us a call to find out more about our great big family of volunteers at Meals on Wheels Pomona! The office is attended on MON, WED, FRI, 8am-12 noon.