What's On the Menu at Meals on Wheels Pomona?
Nutritious, balanced, hearty meals prepared in Pomona from fresh and locally grown ingredients.
General Information
Our meals are prepared and delivered fresh around midday (11am-1pm) on Mondays, Wednesdays and Fridays. On these days we usually deliver one hot meal and one chilled meal that you place in the fridge for the following day.  We also prepare frozen dinners for Sundays, or if you have requested to receive fewer weekly deliveries of frozen meals to reheat at your convenience.
Our meals are wholesome and nutritionally balanced and we can cater to specific dietary requirements.
All meals are made on site using local produce (some of which is volunteered by local producers). All food is prepared in a commercial kitchen in compliance with legislative Health, Hygiene and Safety Standards.
Meals can be purchased for any amount of time – short or long term. Because we receive government subsidies we are able to provide you with high quality meals at minimal cost – please contact us directly for the current meal rates and to let us know of any special dietary requirements that you have.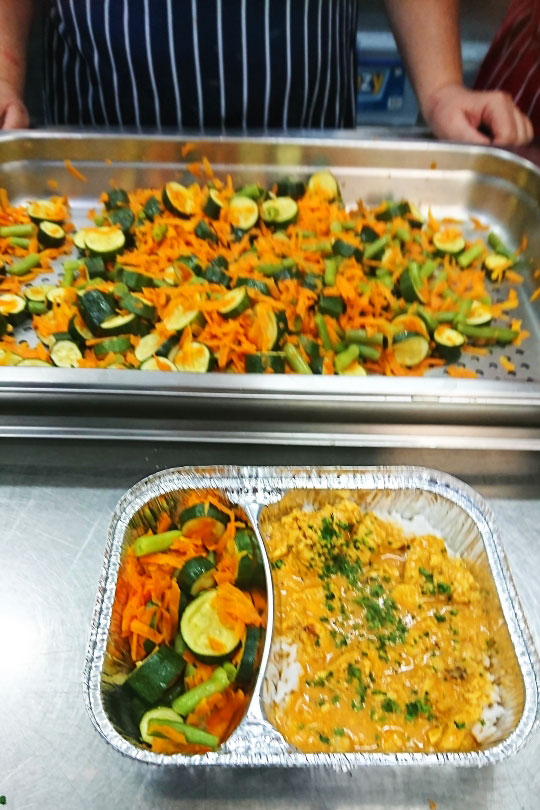 Prepping the daily meals. That's a lot of veges!
Fresh local produce is donated regularly by our wonderfully generous community.
A typical meal
A standard midday meal comprises of soup, a main dish and a dessert. Our menu changes seasonally and we can cater to special dietary requirements. We have some requirements from you, such as notification of any times when you won't require meal delivery or of your dietary needs – it's all very straight forward. Below are some typical dishes that you can expect to find on the Meals on Wheels Pomona menu.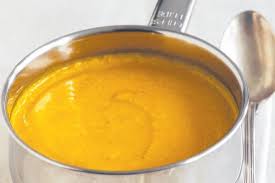 A hearty soup
A delicious seasonal soup prepared and served fresh, e.g:
Pumpkin
Minestrone
Leek & Potato
Barley & Vegetable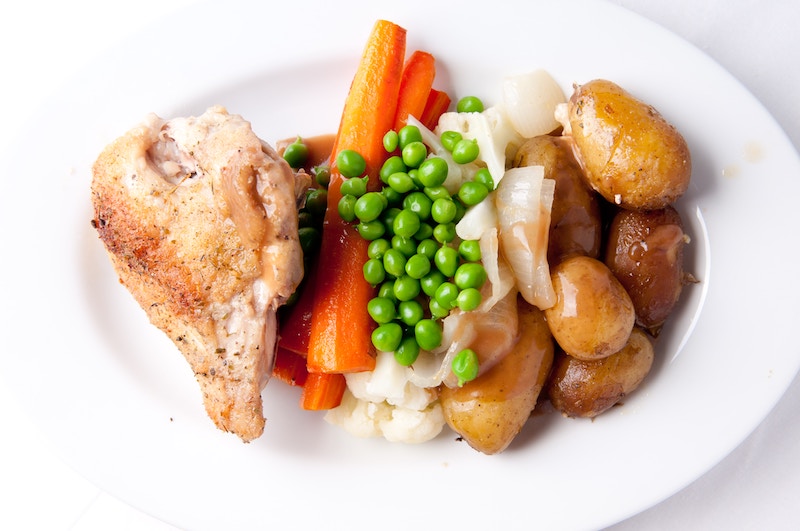 A nourishing main meal
Just like home cooking! Nutritionally balanced and cooked with care, e.g:
Roast chicken & veges
Lasagne
Beef casserole
Vegetarian curry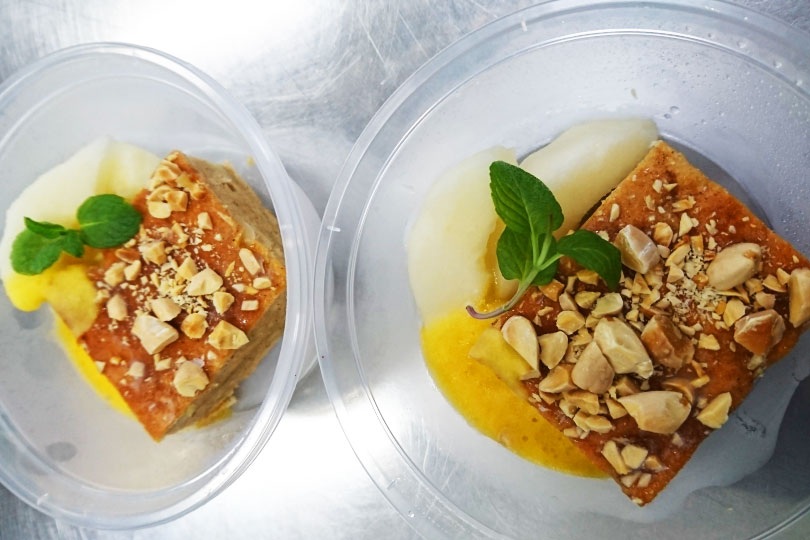 A scrumptious dessert
To bring some extra sweetness to your day, e.g:
seasonal fruit salad & cream
sticky date pudding
lemon delicious pudding
apple pie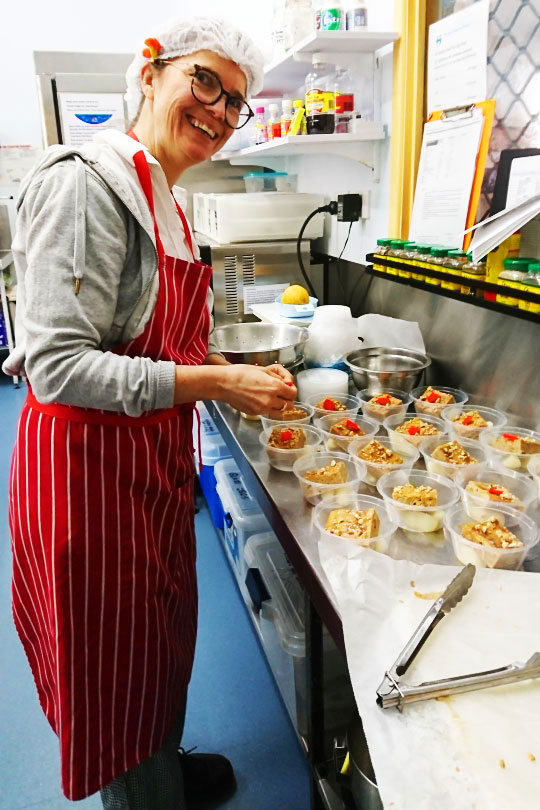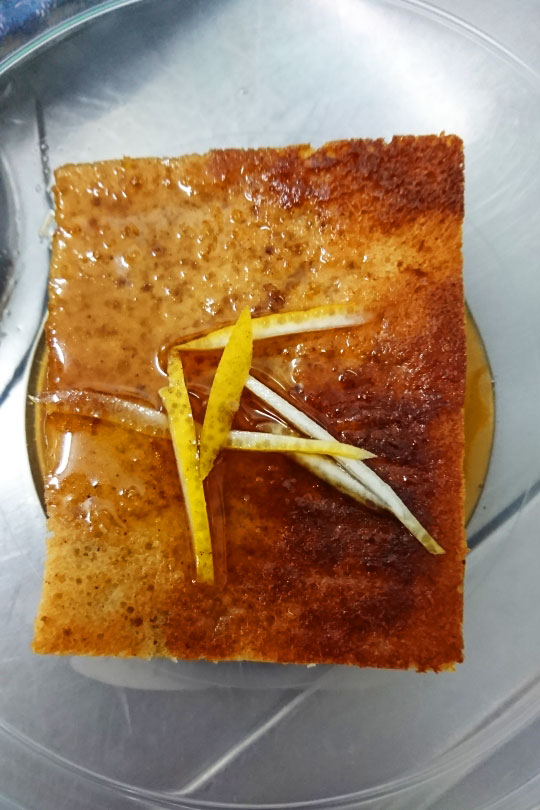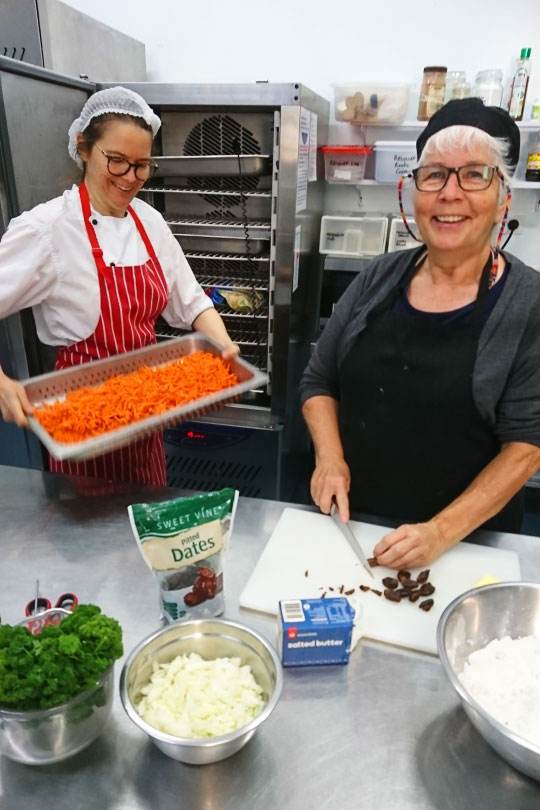 What the people who matter most say…
I have recently started receiving meals from the Pomona Meals on Wheels team.  As I live in an area that is not within the Pomona MOW drop zone, arrangements have been made to deliver meals to a family member who works at Cooroy, who in turn delivers them to my home.  Thank you Meals on Wheels!
Whilst I am limited in what I can eat, the Meals on Wheels team has catered to my dietary requirements. If there is something new on the menu and there is any doubt as to whether it would meet my requirements, either I or my Carer is contacted to resolve any potential issues. MOW has been looking after me for the past fifteen years, delivering seven delicious meals (hot and frozen) per week. Much appreciated, thank you.
I have been a client of Pomona Meals on Wheels for the past three years, receiving seven meals per week.  The home-style meals and desserts are most enjoyable, and the MOW team and their drivers is always a pleasure to deal with.  Thank you for looking after me.