About Meals On Wheels Pomona?
Discover what makes us stand out from other meal providers!
Our Declaration
We, the people, volunteers, chefs, drivers and doers, in order to create a more perfect service for the community, provide for the common good, deliver nourishment and support for the vulnerable, promote the wellbeing of our clients and secure volunteers now and in the future, do ordain and establish this declaration for Meals On Wheels…
We will live our differentiating purpose
MORE THAN JUST A MEAL
We will be known for
RICH COMMUNITY, NOT FOR PROFIT
We will welcome all, regardless of race, religion, nationality or ethnicity, with a true sense of community, care and belonging.
We will offer
REAL CHOICE
The ability to stay healthy at home and continue to live independently with dignity and respect. The ability to recover from surgery at home, not in hospital. The ability to live a full and rewarding life, regardless of disability.
We will be both
FILLING AND FULFILLING
Wholefood, healthy and nutritious. Prepared with care. By good people, volunteers who believe in the power of community. Delivered with a smile and accompanied by a welcome chat and a safety and wellbeing check.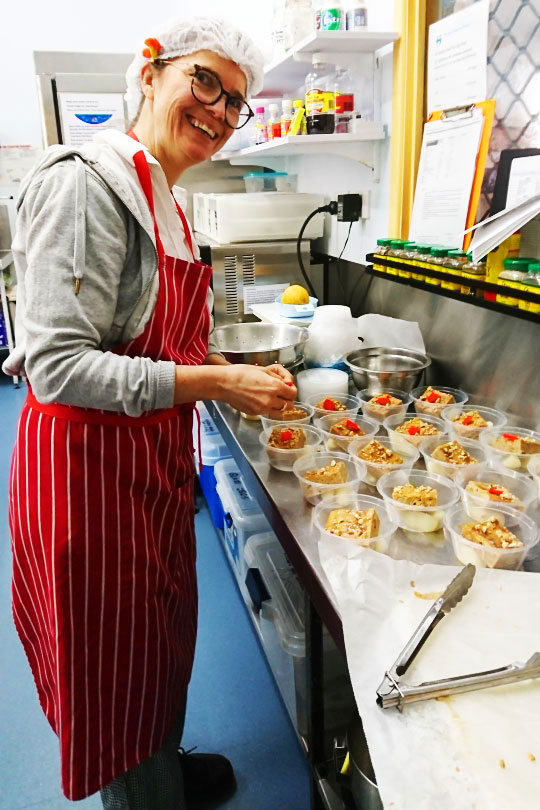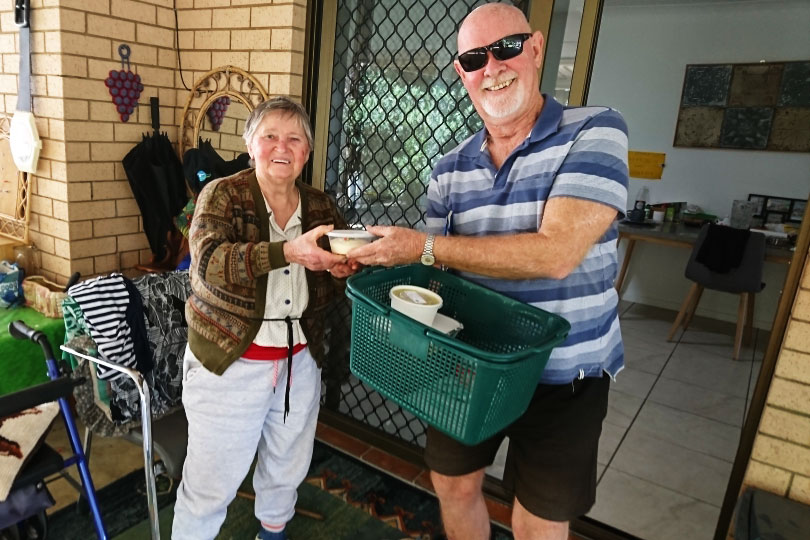 Our aims
Meals on Wheels Pomona operates with a small number of paid staff and a big-hearted family of volunteers. We deliver midday meals three days per week and provide contact for clients to assist them to continue living independently in their own homes. We aim to:
Provide one of the basic necessities of life – a home delivered, nutritious meal to those who need our service
Provide a link with a community concerned for the wellbeing of its citizens
Enable the client to remain living at home for as long as possible
Maintain and enhance client independence and quality of life
Prevent early or inappropriate admission to a hospital, hostel or nursing home.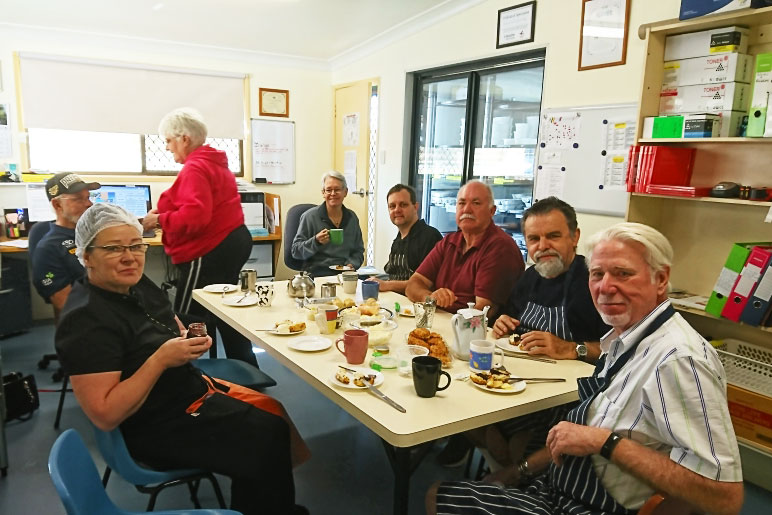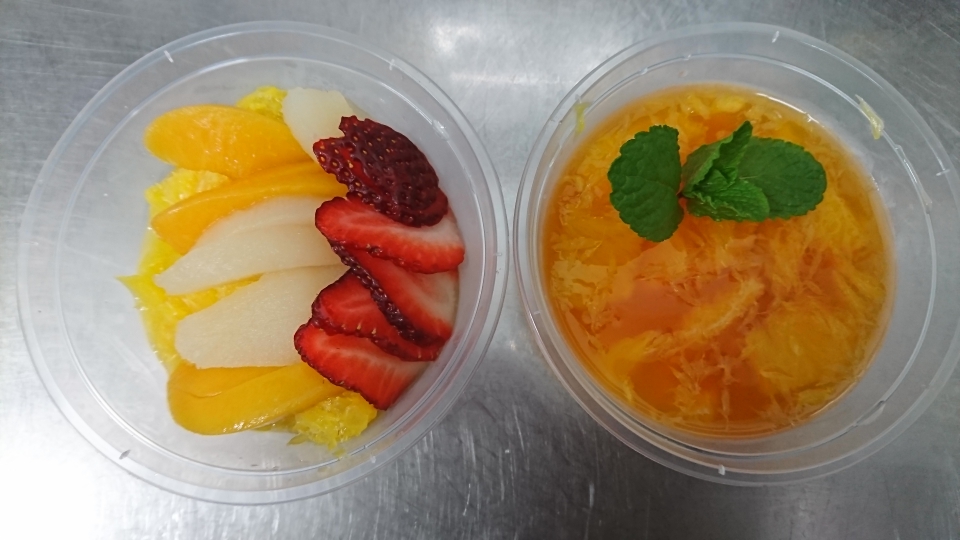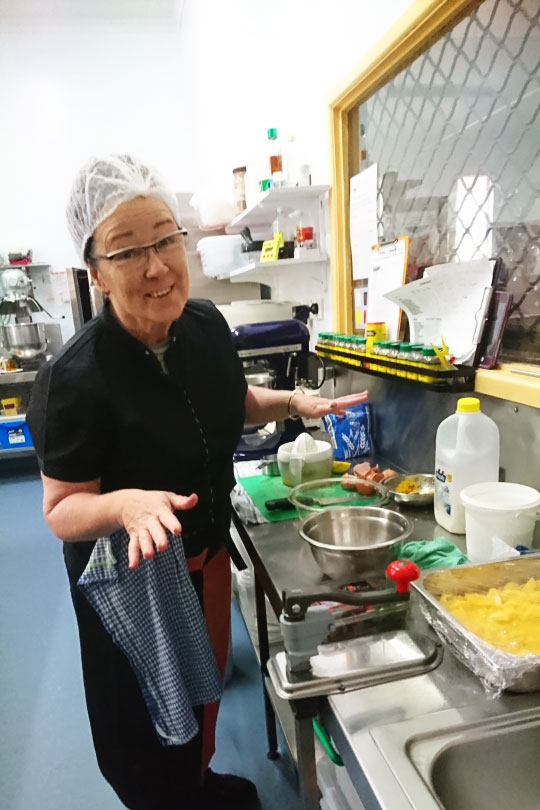 In Good Hands… Our Duty of Care
Meals on Wheels Pomona has a duty of care to prepare and deliver quality meals that comply with legislative Health, Hygiene and Food Safety Standards. All meals are prepared in a sanitised commercial kitchen and strict hygiene standards are followed. All volunteers are vetted and undergo a police check and training to meet our standards. Food delivery must be to the client, carer or other nominated person, or placed into refrigeration. We pride ourselves on offering MORE THAN JUST A MEAL – a service that includes a friendly, respectful chat and a wellbeing check. Our Client Handbook is made available to every new client which includes everything from our policies and procedures, client rights and responsibilities and everything you need to know.
From humble beginnings…
Meals on Wheels Pomona (officially Pomona District Meals on Wheels Inc.) has been providing nourishment for clients in the Noosa Hinterland since 1989 when volunteers Betty Maher and Brenda Goody began serving $1 meals to elderly residents in need. From its humble beginnings volunteers were soon preparing up to 170 meals per week. Funding and assistance came from the Cooroy Pomona Lions Club, fundraisers, local businesses (e.g. L.G. Lennox Butcher), family and friends. Today the good will of volunteers is still the life blood of the organisation which services clients in the local area. What sets Meals on Wheels Pomona apart is our commitment to you, our valued clients – we really aim to enrich the lives of every client and to include fresh, locally-sourced produce in our meals. We are a small, friendly team and we love to share the joy!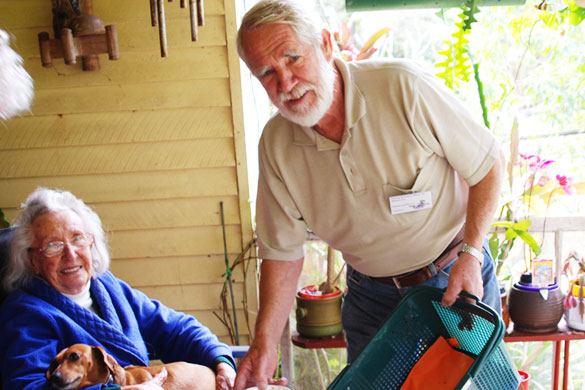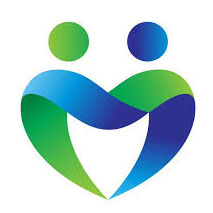 Organisational Structure
Pomona District Meals on Wheels is an incorporated society. It operates with financial assistance from the Home and Community Care Programme (HACC) which is a joint State and Commonwealth Government initiative. Our largest contributors are our valued volunteers. We also receive donations and fundraiser assistance from community groups and local business. Government contributes a subsidy towards each meal and also provides capital funding for facilities and equipment. Our valued clients contribute a fee towards the cost of meals.
A bit of feedback from admin…
Hello team Pomona,
I just wanted to let you know that one of your clients said that you were absolutely amazing and gave amazing service and that she is very happy.
She said she has the flu but physically and emotionally she now feels so much better since having your meals and knowing how kind you were to go out of your way to deliver to her (she was rather emotional).
She said she now wants to possibly volunteer for MOW Pomona once she gets better and is happy to deliver meals in Imbil if that is an option.
She said that you guys (Irene and Rob) got her out of a difficult situation.
She also said that the food is amazing.
Well done!
Kind Regards from Nat.
Natalie Purden
Administration
MOW Regional Office: Unit 16, 27 South Pine Road, Brendale Qld 4500